Recipes
Old Lighthouse salad with cod liver and rice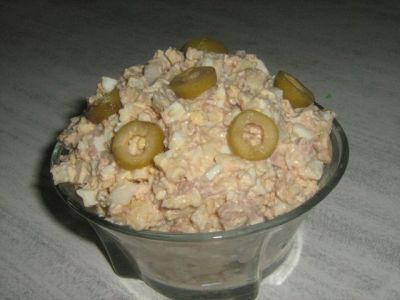 Ingredients
→ 3 TABLESPOONS BOILED CRUMBLY RICE
→ 3 TABLESPOONS MAYONNAISE
→ 200 G CANNED COD LIVER
→ 2 TABLESPOONS FINELY CHOPPED GREEN ONIONS
→ 2 HARD-BOILED EGGS
→ 0.5 LEMON

To prepare
a salad "Old Lighthouse" with cod liver and rice
, you need to remove the cod liver from the jar, flip out of the jar to glass the oil, and then finely chop. 
Mash the boiled eggs with a fork. 
Peel the lemon and slice it thinly, removing the seeds. 
Mix in a salad bowl cod liver, eggs, rice, lemon and season with mayonnaise. 
Ready salad "Old Lighthouse" with cod liver and rice to decorate with finely chopped green onions.