Recipes
Peasant pizza (with olives, shrimps and artichokes)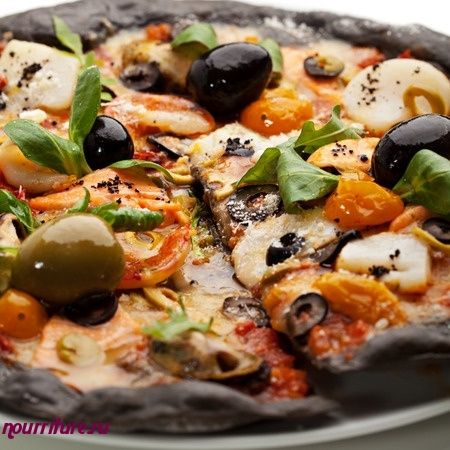 Ingredients
→ 8 BLACK OLIVES, PITTED
→ 8 GREEN OLIVES
→ 500 G WHEAT FLOUR
→ 4 TABLESPOONS OLIVE OIL
→ 4 TOMATOES
→ 200 G OF CHAMPIGNONS
→ 200 G OF CHEESE (EDAM, GOUDA)
→ 20 G YEAST
→ 150 G CANNED ARTICHOKES
→ 100 G SLICED SMOKED SAUSAGE
→ 100 G CANNED OR BOILED SHRIMP
→ 0.5 TSP SALT
→ 0.5 CUP WARM WATER

Products for the test: 500 g of wheat flour, 20 g of yeast, 0.5 cups of warm water, 0.5 teaspoons of salt. 
Products for filling: 4 tomatoes, 200 g of mushrooms, 1 50 g of canned artichokes, 100 g of canned or boiled shrimp, 8 pieces of pitted olives, 8 pieces of green olives, 100 g of sliced smoked sausage, 4 tablespoons of olive oil, 200 g of cheese.
Prepare yeast dough for the dough (see the article "peculiarities of preparation of dough for the dough"). Cut the tomatoes into slices, peel and slice the mushrooms. Dry the artichokes and cut each head into 4 pieces. Rinse the shrimps with boiled water (boiled-frozen ones cook for 3-5 minutes after boiling, and raw ones-10-12 minutes) and let them drain. 
Cut the olives and green olives in half. Place the tomatoes and sausage slices on top of the pizza and place the artichokes and mushrooms on top of them. Sprinkle with shrimps, olives and olives, and drizzle with olive oil. Cut the cheese into pieces and spread it out on the dough. 
Put the pizza in the oven (temperature 180-200 degrees) for 20 minutes.