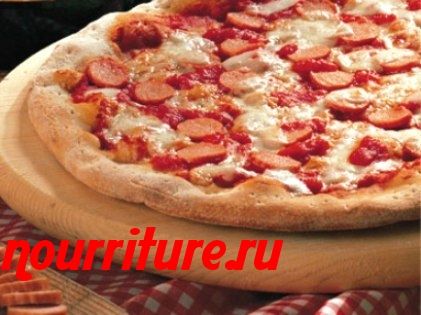 Ingredients
→ A PINCH OF SUGAR
→ SALT
→ 30 G VEGETABLE OIL + 3 TABLESPOONS VEGETABLE OIL
→ 3 TOMATOES
→ 2-3 SAUSAGES OR 150 G OF CANNED SARDINES
→ 2-3 CLOVES OF GARLIC
→ 200 G WHEAT FLOUR
→ 150-200 G OF CHEESE (EDAM, GOUDA)
→ 15 G OF YEAST
→ 1/2 TEASPOON THYME
→ 1/2 TEASPOON OREGANO
→ 1 CUP OF WATER
→ 1 LARGE ONION

Products for the test: 200 g of wheat flour, 15 g of yeast, 1 cup of water, 30 g of vegetable oil, a pinch of salt, a pinch of sugar.

Products for the filling: 1 large onion, 2-3 cloves of garlic, 3 tomatoes, 3 tablespoons of vegetable oil, 1/2 teaspoon of thyme, 1/2 teaspoon of oregano, 2-3 sausages or 150 g of canned sardines, 150-200 g of cheese, salt to taste.

Prepare a non-sugar yeast dough. From the dough, roll out the tortilla to the size of the mold, make a small side, lifting the edges of the dough. The form is greased with vegetable oil, put the tortilla, also greased with oil, and then sliced onion rings, fried with crushed garlic, sliced tomatoes, sausages or sardine fillets (see the article "Cutting fish"), and cut into small cubes of cheese. Sprinkle the pizza with spices on top.

Bake in the oven at 180-200 degrees for 20-30 minutes.