Recipes
Pizza "Lisa" (with anchovies)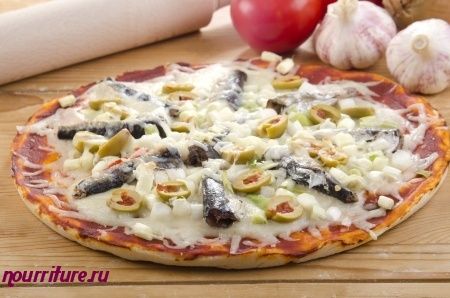 Ingredients
→ GROUND BLACK PEPPER
→ SALT
→ OREGANO
→ 50 G BONELESS FILLETS OF ANCHOVIES (HERRING)
→ 400 G WHEAT FLOUR
→ 300-400 G OF CHEESE (EDAM, GOUDA)
→ 20 G YEAST
→ 2 EGGS
→ 100 G BUTTER + 70 G BUTTER FOR FILLING
→ 1 CUP WARM MILK
→ 1 ONION
→ 1 KG OF PEELED TOMATOES

Products for the dough: 400 g of wheat flour, 2 eggs, 20 g of yeast, 1 cup of warm milk, 100 g of butter, salt. 
Products for filling: 1 onion, 1 kg of peeled tomatoes, 300-400 g of cheese, 50 g of boneless anchovy fillet (herring) (see the article "Cutting fish"), 70 g of butter, oregano, ground black pepper. 
Prepare the dough without sourdough (see "Features of making yeast dough without sourdough"). Fry the onion cut into thin slices on 50 g of oil. Then add the sliced tomatoes to the onion, season with salt and pepper, and simmer until the liquid has completely evaporated. 
Cut the cheese and anchovy fillets into small pieces (see "Cutting fish"). 
When the dough rises, once again take it out, roll it out, cut it either into circles 0.5 cm thick and 15 cm in diameter, or make one large round sheet. 
Place the dough on a baking sheet, greased with oil (the remaining 20 g). Put the anchovy pieces on the dough, cover with a layer of cheese, prepared tomato sauce (dilute the tomato paste with boiled water in a ratio of 2:1 and stir well), sprinkle with oregano, place the pieces of butter on top and put in a heated oven to 200 degrees for 15 minutes.