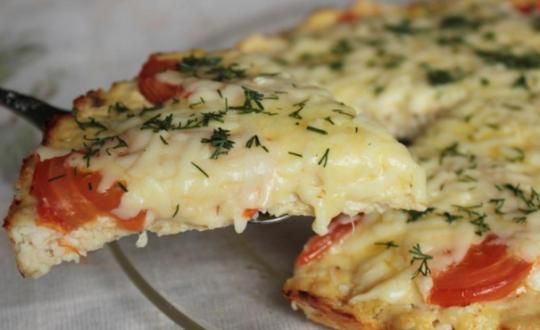 Ingredients
→ GROUND BLACK PEPPER
→ OREGANO
→ 300 G WHEAT FLOUR
→ 3 TABLESPOONS MAYONNAISE
→ 2-3 SWEET PEPPERS
→ 200 G OF BOILED TURKEY, CHICKEN OR FISH MEAT
→ 200 G PARMESAN CHEESE
→ 2 EGGS
→ 2 TABLESPOONS SOUR CREAM (15% FAT CONTENT)
→ 2 MEDIUM-SIZED TOMATOES
→ 2 SMALL ONIONS
→ 1 TEASPOON SUGAR
→ 1 CUP KEFIR (3.2% FAT CONTENT)
→ 0.5 TSP SALT + SALT IN THE FILLING
→ 0.5 TSP BAKING SODA

To prepare pizza dough with poultry or fish, you will need the following products: 300 g of wheat flour, 1 cup of kefir (3.2 % fat content), 2 eggs, 1 teaspoon of sugar, 0.5 teaspoons of soda, 0.5 teaspoons of salt.

Products for filling: 200 g of boiled turkey, chicken or fish (see "Features of cooking boiled fish"), 2 small onions, 2 medium-sized tomatoes, 2-3 sweet peppers, 200 g of parmesan, 3 tablespoons of mayonnaise, 2 tablespoons of sour cream (15% fat content), oregano, ground black pepper, salt to taste.

In kefir, add eggs, salt, soda, sugar, pour in the sifted wheat flour, replace the dough, pour into a carefully greased form with vegetable oil. Top with meat or fish fillings (sausage, chicken, boiled fish or canned fish in oil), then cut into rings of onions, sweet peppers and tomato slices. Add salt and pepper to taste. Cover with grated cheese and pour a mixture of mayonnaise and sour cream.

Bake in the oven at 180 degrees for about 25-30 minutes. Serve pizza with poultry or fish hot.