Recipes
Pizza with seafood and suluguni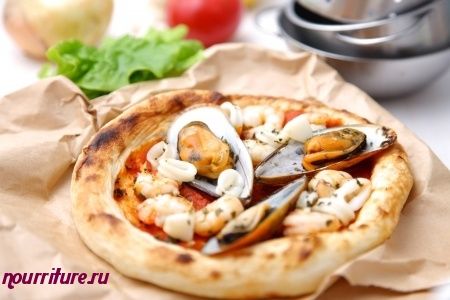 Ingredients
→ SALT TO TASTE
→ 4 SPRIGS OF PARSLEY
→ 3 TABLESPOONS KETCHUP
→ 20 G BUTTER
→ 2 TEASPOONS DRY YEAST
→ 100 G PEELED BOILED SHRIMP
→ 100 G SOFT CHEESE (SULUGUNI TYPE)
→ 100 G CANNED CRAB MEAT (WITHOUT LIQUID)
→ 1\3 CUPS OF WARM WATER
→ 1.5 CUPS FLOUR
→ 1 EGG
→ 1 TEASPOON SUGAR
→ 1 CAN (75 G) OF CANNED OYSTERS OR MUSSELS (WITHOUT LIQUID)

Products for the dough: 1.5 cups of flour, 1 egg, 2 teaspoons of dry yeast, 1\3 cups of warm water, 1 teaspoon of sugar, 20 g of butter, salt to taste. 
Products for the filling: 100 g of canned crab meat (without liquid), 100 g of peeled boiled shrimps (see the recipe "Boiled shrimps"), 1 can (75 g) of canned oysters or mussels (without liquid), 100 g of soft cheese (such as suluguni), 3 tablespoons of ketchup, 4 sprigs of parsley. 
Yeast and sugar dilute with warm water, wait for the appearance of bubbles. Mix with butter, egg and flour and knead thoroughly on the table for about 5 minutes. Then roll out the dough into a circle with a diameter of about 30 cm. 
Grease the mold with oil, carefully transfer the dough into it, lifting the edges. The dough is greased with ketchup, then put successive layers of crab meat, shrimp and oysters. Sprinkle with grated cheese and chopped parsley. 
Put the pizza in a preheated oven and bake at 180 degrees until ready for about 35-30 minutes.