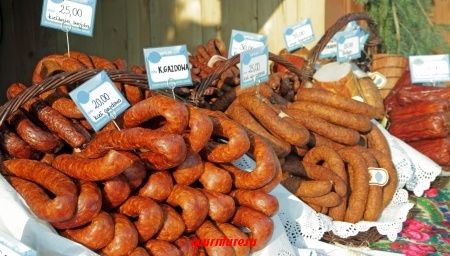 As you know, in terms of meat consumption, in particular pork, Poland occupies one of the leading places in Europe. In addition to pork, poles are also very fond of game-hares, boars and pheasants - and domestic geese, fattened, according to tradition, with oats and exported even abroad.
Meat in Poland is used to prepare a variety of dishes, including jelly and famous national sausages, which, however, are not suitable for those who follow the figure, because they contain a lot of fat.
The legendary Cracow sausage, short and very smoked, is often served for Breakfast with bread, and this is not surprising, since the poles try to make the morning meal as satisfying as possible.
For lunch, often in Polish homes and restaurants, bigos (Bigus) is offered as a second course – a national dish, for which sour white cabbage is stewed together with mushrooms and pork. 
Well, at dinner, poles mostly refrain from high-calorie meat dishes, preferring instead vegetable salads and tea.