Recipes
Potato casserole with canned fish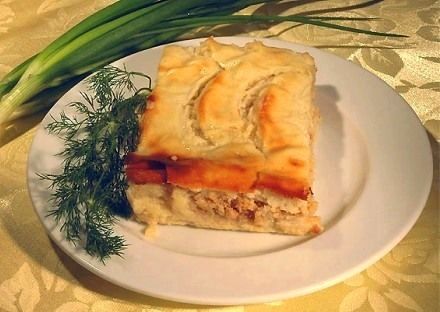 Ingredients
→ SALT
→ 345 G OF CANNED FISH
→ 2 TABLESPOONS BREADCRUMBS
→ 1 EGG
→ 1 TABLESPOON MELTED BUTTER
→ 1 KG OF POTATOES

Transfer the canned fish from the jar to the pan, heat and cut into slices. Peeled and cooked potatoes in hot form pass through a meat grinder or mash in a saucepan, add salt, egg, juice from the fish and mix it all thoroughly.

Put half of the mashed potatoes in an even layer on a frying pan, greased with oil and sprinkled with breadcrumbs (see "White breadcrumbs"). Put the fish on a layer of puree, and the rest of the puree on it, flatten, sprinkle with breadcrumbs, sprinkle with oil and bake.

If there is no oven, then cover the pan with mashed potatoes and put on a low heat. When the puree is well warmed up and fried from the bottom, transfer it to a dish. To do this, cover the pan with a round dish and, pressing it tightly to the pan, quickly turn the pan upside down. In this way, you can fry the other side, shifting the casserole from the plate back to the pan.