Recipes
Puff pastry with viziga and fish (puff pastry on sourdough)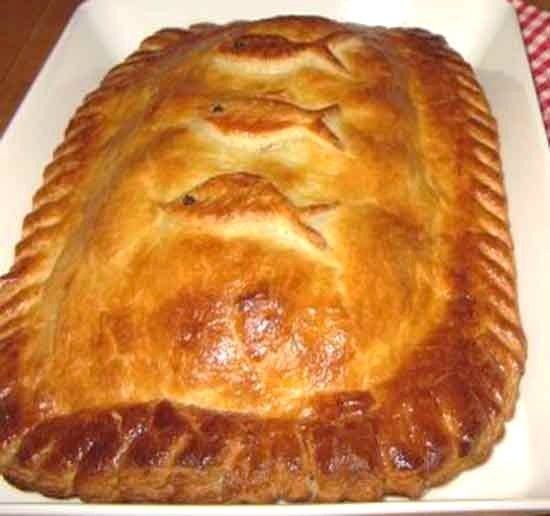 Ingredients
→ GROUND BLACK PEPPER
→ SALT (1 TEASPOON IN THE DOUGH + SALT IN THE FILLING)
→ 40 G YEAST
→ 4.5 CUPS WHOLE WHEAT FLOUR
→ 3-4 HARD-BOILED EGGS+ 2 RAW EGGS
→ 300-500 G BONELESS FILLET OF BOILED STURGEON, SALTED SALMON OR SALMON
→ 30 G PARSLEY
→ 2-3 TABLESPOONS OF MELTED BUTTER+ ¼ CUP OF BUTTER+150 G OF BUTTER (FOR A LAYER OF DOUGH)
→ 100 G OF VIZIGA
→ 1.5 CUPS OF MILK
→ 1 TABLESPOON SUGAR

Products for filling (minced meat from viziga): 100 g of viziga, 2-3 tablespoons of melted butter, 3-4 hard-boiled eggs, salt, ground black pepper, 30 g of parsley.

Products for filling (fish): 300-500 g boneless fillet of boiled sturgeon, salted salmon or salmon (see "Cutting fish" and "Features of cooking boiled fish").

Products for the test: 1/4 cup butter, 1.5 cups milk, 2 eggs, 1 tablespoon sugar, 1 teaspoon salt, 40 g yeast, 4.5 cups wheat flour, 150 g butter (for a layer of dough). The dough is prepared in a sourdough way. The oil layer to be introduced in coming up the dough (see "making dough in dough", "making pastry for the dough"). (For the technology of rolling out and layering the dough, see the recipe "Puff pastry with viziga and fish (puff pastry without yeast".)

From the puff pastry, roll out two strips 1/2 cm thick, 15-30 cm long, 10 cm wide, and 20 cm wide. The ends of the strips can be made straight or oval. Put a narrow strip in the middle of the baking sheet and cover it with thin pancakes, so that the puff pastry does not get wet from the filling. Then put a layer of minced viziga 6-7 cm wide on the pancakes, on it-slices of boiled sturgeon, salted salmon or salmon, then another layer of viziga. On top of the minced meat cover with pancakes, brush the sides with egg, dazzle them with the edges of the pancakes first, brush with egg edge of the puff pastry around the beef, cover with a second, broader, strip test and objav beef, sculpt the edges of the strips. Decorate the kulebyaku on top with a pattern of the remnants of puff pastry or apply narrow pepper strips, smearing them with raw egg yolk. The edges of the kulebyaka can also be closed with a strip of dough and smooth the kulebyaka, lubricate with yolk, make punctures at the ends with a knife to release steam and put for 40-50 minutes in a preheated 180 degree oven. If the kulebyaka is browned on top, and still pale on the sides, then the browned part should be covered with a strip of paper, moistened with water on the outside. If the bottom of the kulebyaki is not baked, then the baking sheet should be moved lower.

In the same way you can prepare the pie with rice and fish. Fish pie served the eggs and melted butter.