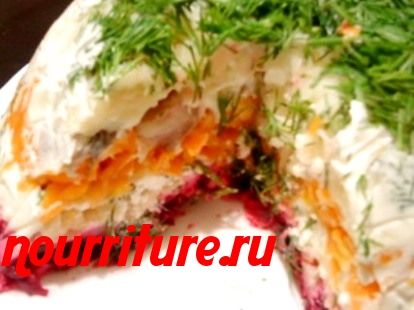 Ingredients
→ 800 G OF BOILED BEETROOT
→ 600 G BOILED POTATOES
→ 300 G SOUR APPLES
→ 250 G VEGETABLE OIL WITH MAYONNAISE
→ 200 G BOILED CARROTS
→ 100 G ONION
→ 1 KG OF SALTED HERRING

Boil the carrots and potatoes, finely chop the onion, grate the apples and boiled beets on a coarse grater. Soak the herring a little in a dark tea infusion.

In a salad bowl, put first a layer of mashed potatoes, then pieces of herring, a layer of grated apples, and on top of them – a layer of beets, onions, then again a layer of herring, carrots, apples and beets.

Top everything with a layer of potatoes and pour a mixture of vegetable oil and mayonnaise.