World culinary
Regional cuisine of Germany: assorted Leipzig and onion pie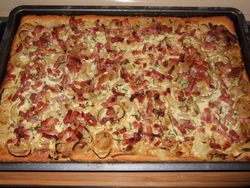 Assorted in Leipzig
Assorted Leipzig was originally invented as a dish for the poor, moreover, in the early 19th century, the administration of Leipzig gave instructions to prepare it in order to hide the true material well-being of the city from tax collectors.
Assorted vegetables are prepared from several types of vegetables - peas, beans, carrots, cauliflower, asparagus - dressed with cream and flour gravy.
Traditionally, it is served with crabs, morels or prawns.
Onion pie (of zwiebelkuchen)
Fall in many areas of Germany are zwiebelkuchen, that is an onion pie. In Rhineland-Palatinate, Franconia and Rheinhessen this cake bake all trays and served to the feast of wine. And, of course, along with the pies, they drink new wine, in this case - it is the juice from the main fermentation.
For the preparation of zwiebelkuchen onions fried in fat and then mixed with eggs and sour cream. The resulting mixture, together with pieces of lard, is spread on a yeast dough and baked. For better digestibility, caraway seeds are also often added to the filling before baking.