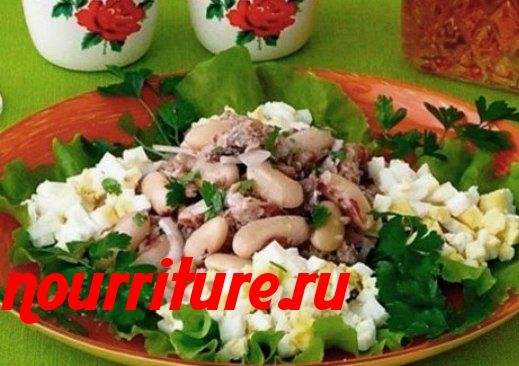 Ingredients
→ GROUND BLACK PEPPER
→ A FEW SPRIGS OF PARSLEY
→ WINE VINEGAR
→ 40 G GREEN SALAD
→ 2-3 HARD-BOILED EGGS
→ 200 G CANNED SARDINES IN OIL
→ 2/3 CUP VARIEGATED BOILED BEANS
→ 1-2 CLOVES OF GARLIC
→ 1 ONION

Put the boiled beans on the bottom of a deep bowl, put the onion cut into thin rings, pieces of sardines and crushed garlic on the beans.

Season the salad with a sauce made from 4-5 tablespoons of wine vinegar, canned oil and ground black pepper. Gently shake the bowl, then transfer the salad to a salad bowl lined with green lettuce leaves.

Before serving, decorate the dish with egg circles and sprigs of parsley.