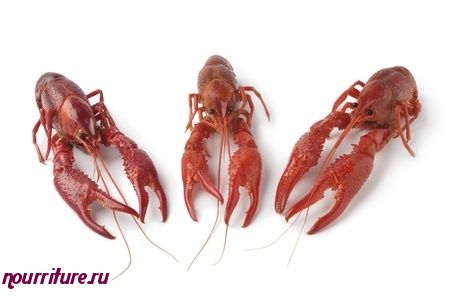 Ingredients
→ SALT
→ SUGAR
→ 50 G GREEN SALAD
→ 3 TABLESPOONS MAYONNAISE
→ 2 CELERY ROOTS
→ 150 G FRESH CUCUMBERS
→ 150 G CANNED GREEN PEAS
→ 1-2 CANCERS
→ 1-2 BOILED POTATOES
→ 1 SWEET AND SOUR APPLE

Boil the potatoes in the skin, and then peel them. 
Apples and celery coarsely grate. 
The remaining vegetables and the pulp of boiled crayfish (after surfacing, the crayfish are cooked for 10-15 minutes) are finely chopped, mixed, add the peas. 
Mix all the ingredients of the salad, season with mayonnaise, sugar and salt. Top the dish with green lettuce leaves.