Recipes
Salad with herring and canned peas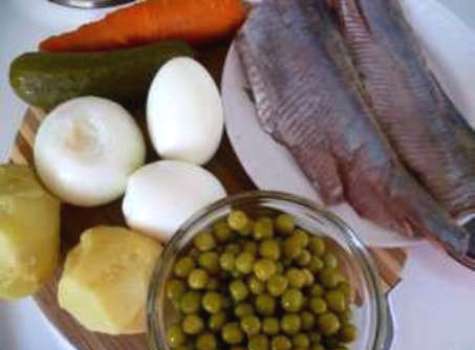 Ingredients
→ LETTUCE LEAVES
→ 50 G GREEN ONIONS
→ 3 TABLESPOONS GREEN CANNED PEAS
→ 3 BOILED POTATOES
→ 2 TABLESPOONS SOUR CREAM
→ 2 TABLESPOONS MAYONNAISE
→ 2 PICKLED CUCUMBERS
→ 2 CANNED RED SWEET PEPPERS
→ 2 HEADS OF ONION
→ 1 SALTED HERRING
→ 1 HARD-BOILED EGG
→ 1 BOILED CARROT

First, cut onions, boiled potatoes and carrots, and then-pickles (slices) and red pepper (straws). Finely chop and add the green onions and eggs to the salad.

Cut the herring into fillets (see "Cutting fish"), cut into small pieces.

Mix everything, add green peas and chopped lettuce leaves. At the end, fill the mixture with mayonnaise and sour cream.