Recipes
Salmon, whitefish, flounder, whitefish, pikeperch or salmon poached with vegetables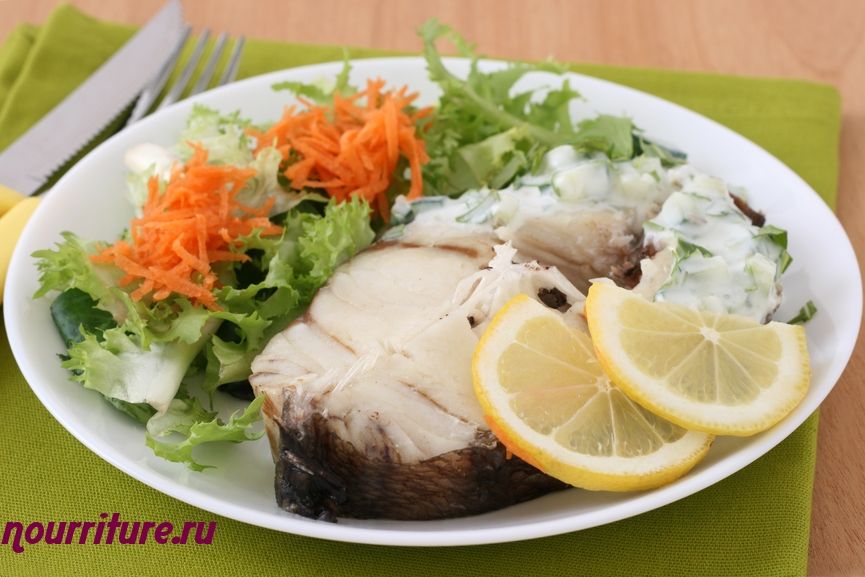 Ingredients
→ SAUCE " MAYONNAISE WITH GHERKINS"
→ SAUCE " MAYONNAISE WITH HERBS"
→ SALT
→ 750 G OF VEGETABLE SIDE DISH (BOILED POTATOES, BOILED CAULIFLOWER, CANNED GREEN PEAS, BOILED CARROTS, BOILED TURNIPS, RAW WHITE CABBAGE, BOILED STRING BEANS, BOILED BEETS, GREEN LETTUCE, FRESH TOMATOES, ETC.)
→ 700 G SALMON OR MUKSUN, OR FLOUNDER, OR WALLEYE, OR CHUM SALMON, OR WHITEFISH
→ 50 G PARSLEY
→ 200 G OF MAYONNAISE
→ 150 G FISH JELLY

Fresh raw salmon (fillet with skin and bones) (see the article "Cutting fish") cut into portions and cook in salted water (see the material "Features of cooking boiled fish"). 
Cool the fish pieces in the broth. Then remove the bones and skin. Serve the fish with diced or sliced potatoes, turnips, boiled beets or boiled carrots. In addition, as a side dish, you can use boiled bean pods, canned green peas, raw tomatoes, boiled cauliflower or white cabbage (raw white cabbage should be finely chopped, seasoned with salt, sugar and mayonnaise to taste). 
Garnish the dish with separate islands. Decorate the fish with pieces of fish jelly (see the recipes "Aspic fish slices", "Jelly based on fish broth"), green lettuce leaves and sprigs of parsley. Separately, serve the fish sauce "Mayonnaise with gherkins" or sauce "Mayonnaise with herbs" (see the recipe "Sauce" Mayonnaise with gherkins").