Recipes
Salted herring salad with potatoes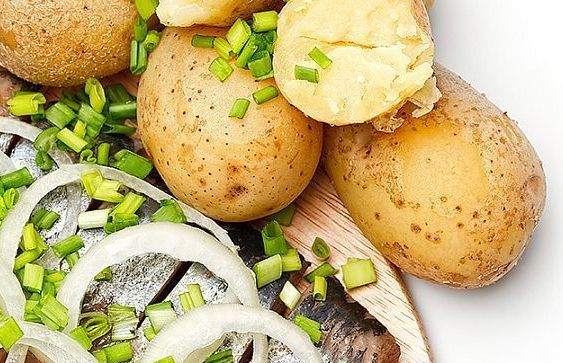 Ingredients
→ 4-5 TABLESPOONS VEGETABLE OIL
→ 4 TABLESPOONS LEMON JUICE
→ 4 BOILED POTATOES
→ 20 G GREEN ONIONS
→ 1 CUP SAUERKRAUT
→ 1 SALTED HERRING
→ 1 HORSERADISH ROOT

Cut the herring into boneless fillets (see "Cutting fish") and cut into small pieces. Put the pieces of herring in an enamel bowl and pour lemon juice, mix gently and let stand for 20-30 minutes at room temperature.

Meanwhile, boil the potatoes in the "uniform", cool, peel and cut into small cubes. Sauerkraut squeeze from the juice. Peel the horseradish root and grate it coarsely. Finely chop the green onions.

Mix in a salad bowl herring, potatoes, sauerkraut, horseradish root, half of the chopped onion and season with vegetable oil.

Sprinkle the finished salad with the remaining chopped green onions.