Recipes
Sandwiches canapes with spicy herring or capelin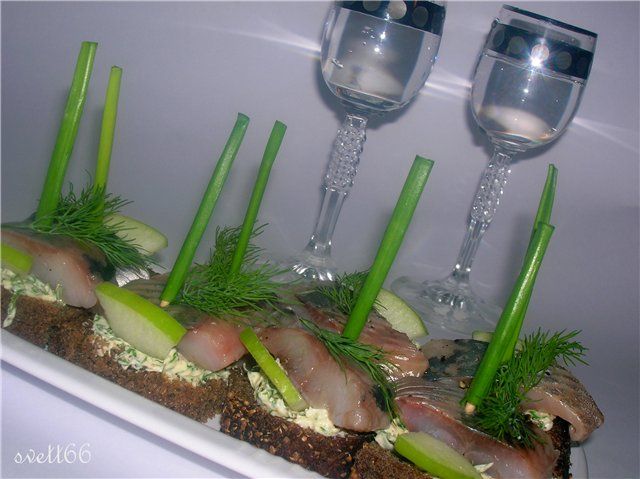 Ingredients
→ PARSLEY GREENS
→ 500 G SPICED HERRING OR CAPELIN
→ 2-3 RADISHES
→ 20-30 SLICES OF RYE OR WHITE BREAD
→ 100 G BUTTER OR SHRIMP OIL
→ 1 HARD-BOILED EGG
→ 1 TOMATO
→ 1 BOILED CARROT
→ 1 ONION

Slightly stale wheat or rye bread is cut in the form of rectangles, squares, 5-6 cm in size, 0.7-1 cm thick. Slices can be fried in butter until a golden crust is formed. 
Spicy herring or capelin is gutted, the head and tail fin are removed, cut into fillets without bones and cut into pieces 3-4 cm long.
 The fish is placed on prepared slices of bread. On one part of the sandwiches, add a triangle of butter or shrimp oil, on the other-1\4 hard-boiled eggs and a slice of tomato, on the third-rings of onions, on the rest-circles of pickled cucumber or a rose made of butter and a flower made of radishes or boiled carrots. 
Ready-made sandwiches are decorated with a parsley leaf. 
Sandwiches-canapes are served on a large platter to the festive table.