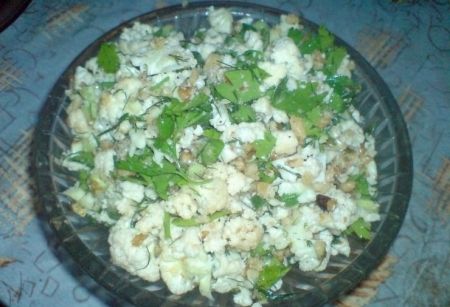 Ingredients
→ 300 G BONELESS SAURY FILLET
→ 3 BOILED POTATOES
→ 20 G GREEN ONIONS
→ 2/3 CUP CANNED GREEN PEAS
→ 2 PICKLED CUCUMBERS
→ 0.5 CUPS OF MAYONNAISE

Saury fillet boil in salted water until tender (see Cutting fish" and "Features of cooking boiled fish"), cool, remove the bones and cut into small pieces. 
Boil the potatoes in the "uniform", cool, peel and cut into cubes. 
Cut the pickled cucumber into small slices. Mix in a salad bowl boiled saury fillet, potatoes, pickled cucumber, peas (without liquid), and season with mayonnaise. Garnish the finished salad with finely chopped green onions.