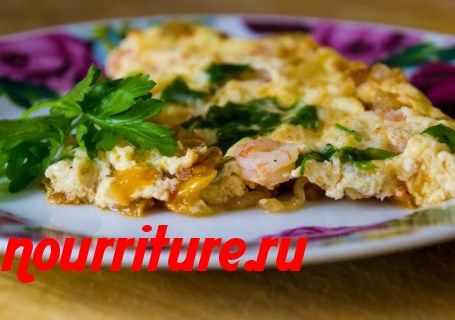 Ingredients
→ DILL
→ SALT
→ GROUND BLACK PEPPER
→ 500 G FROZEN SHRIMP
→ 50 G OF FAT
→ 3 EGGS
→ 3 TABLESPOONS CREAM (10% FAT CONTENT)
→ 3 BOILED POTATOES
→ 2 TABLESPOONS MELTED BUTTER
→ 2 SLICES OF WHITE BREAD
→ 1 ONION

Defrost the shrimps, cut the lard and onion into small cubes. Heat the oil and fry the lard and onion in it, then add the sliced potatoes and shrimp. Fry everything, stirring constantly.

Break the eggs, mix with cream, add dill, salt. Pour the egg over the shrimp.

Cut the bread into small pieces and lightly fry in butter. 

Before serving, sprinkle the dish with croutons (see the article "Making croutons for soup").