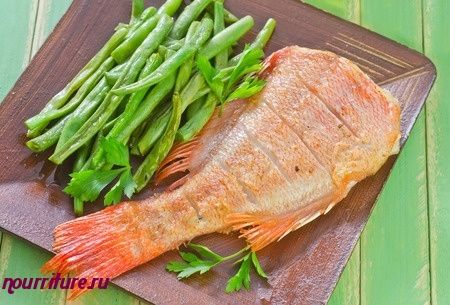 Ingredients
→ SALT
→ BUTTER
→ CREAMY MUSTARD SAUCE
→ GROUND BLACK PEPPER
→ 800 G BONELESS SEA BASS FILLET
→ 6 TOMATOES
→ 100 G OF LARD
→ 1\4 CUPS DRY WHITE WINE
→ 1 HARD-BOILED EGG
→ 1 TEASPOON LEMON JUICE
→ 1 ONION

Sprinkle the fish with lemon juice and salt (see the article " Cutting fish). 
4 tomatoes cut into a cross and lightly season with salt. 2 tomatoes cut into discs, finely chop the fat, chop the onion. 
In a cooking bowl, pour a little melted butter, put the fish fillet and 4 tomatoes there. Melt the lard and fry the onion on it. Then add the chopped tomatoes, mix well, add the wine and pour the resulting mixture over the fillet. 
Put the fillet for 15 minutes in the oven, preheated to 200 degrees. 
Before serving, season the dish with creamy mustard sauce (see the recipe for "Creamy mustard sauce").