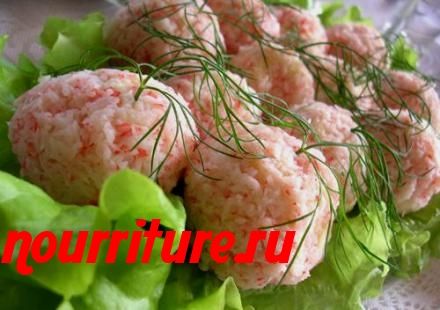 Ingredients
→ SALT
→ GROUND PAPRIKA TO TASTE
→ 300 G SHRIMP
→ 100 G OF LETTUCE
→ 1/4 OF A LEMON
→ 1/3 CUP MAYONNAISE
→ 1 SWEET AND SOUR APPLE
→ 1 CELERY SALAD
→ 1 TOMATO OR POD OF RED SWEET PEPPER

Boil the shrimps (boiled-frozen shrimps cook for 3-5 minutes after boiling, and raw-10-12 minutes), peel off the shell and cut into 2-3 parts. Celery and apple cut into strips 2-3 cm long, and then put everything in a bowl.

Before serving, mix the prepared products with 1/2 cup of mayonnaise, lemon juice, salt and pepper. Make balls of this mixture according to the number of servings, put them in lettuce leaves, previously dried on a napkin. On each such ball, put a teaspoon of mayonnaise and sprinkle pepper on top. The balls can be decorated with strips of red sweet pepper, previously scalded with boiling water (2-3 minutes), or tomato slices.

In the same way, you can prepare a salad of canned crabs or fish.