Recipes
Solyanka fish in a frying pan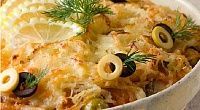 Ingredients
→ SALT
→ GROUND BLACK PEPPER
→ 50 G CAPERS
→ 400-600 G OF FRESH FISH
→ 2 TABLESPOONS TOMATO PASTE
→ 2 TABLESPOONS VEGETABLE OIL
→ 2 PICKLED CUCUMBERS
→ 2 ONIONS
→ 125 G FISH BROTH
→ 1 TABLESPOON WHEAT FLOUR
→ 1 TABLESPOON BREADCRUMBS
→ 1 KG OF SAUERKRAUT OR WHITE CABBAGE

For the solyanka, cook fresh or sauerkraut. Boneless fillet (see the article " Cutting fish») cut the fish into pieces of 40-50 g, add salt, pepper, roll in flour (see the recipe "Flour breading") and fry in oil together with chopped onions. Put the fried fish and onions in a saucepan, add the tomato paste, pickles, peeled and cut into thin slices, and capers, pour in 0.5 cups of fish broth (see the recipe "Fish broth") and simmer, closing the pan with a lid, for 15-20 minutes.

In a frying pan, put half of the stewed cabbage, spread the stewed fish with garnish and sauce on top of it. Cover all this with the rest of the cabbage, smooth the surface with a knife, sprinkle with breadcrumbs (see the recipe "White breadcrumbs") and put in a hot oven.

When serving on the table, the hodgepodge can be decorated with green onions, cucumber slices, boiled beets, olives, capers, etc.