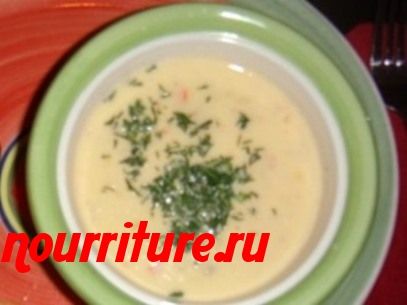 Ingredients
→ SALT
→ 4 CUPS MILK
→ 4 TABLESPOONS BUTTER
→ 225 G OF CANNED CRABS (1 CAN)
→ 2 EGGS (FOR THE LIAISON)
→ 2 TABLESPOONS WHEAT FLOUR
→ 1 CUP CREAM (FOR LIESON)
→ 1 CUP FISH STOCK OR WATER

Select a few pieces of crab for garnish, pass the rest through a meat grinder, put in a saucepan and pour 1 cup of fish broth (see "Fish broth", as well as the recipe "Fish broth") or water. Cover the pan with a lid and cook the crabs for 5-10 minutes.

In a separate small saucepan, combine the flour with 2 tablespoons of butter, dilute with hot milk, boil, add the crabs and cook for another 15-20 minutes. Then rub through a sieve, add salt, season with butter and egg lieson (see "Features of cooking filling soups on fish broth"). Cut the crab pieces left for garnish and add them to the soup.

Separately to the soup-puree, you can serve toasted croutons of wheat bread in butter (see "Making croutons for soup").