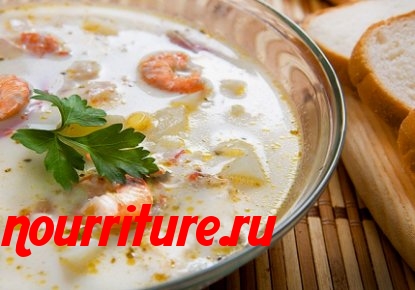 Ingredients
→ SALT
→ WATER
→ 500 G BOILED AND FROZEN SHRIMP
→ 2 TABLESPOONS BOILED CHOPPED MUSHROOMS
→ 2 TABLESPOONS MILK
→ 1 EGG
→ 1 TABLESPOON MELTED BUTTER
→ 1 TABLESPOON CANNED GREEN PEAS
→ 1 CARROT
→ 1 ONION

Shrimps are washed in cold water and boiled (boiled and frozen are cooked 3-5 minutes after boiling, and raw-10-12 minutes). Then they are cleaned from the shell.

The broth is filtered and green peas, mushrooms, chopped onions and carrots, salt are added to it. The soup is cooked at a low boil. Shrimp is added to the finished dish and seasoned with a mixture of milk and eggs.

Mix: combine the egg with 2 tablespoons of milk, add 1 tablespoon of butter and mix everything thoroughly.