Recipes
Squid salad with rice and tomato juice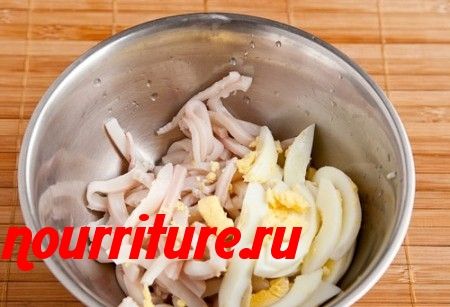 Ingredients
→ TOMATO JUICE
→ SALT
→ GROUND BLACK PEPPER
→ 50 G GREEN SALAD
→ 4 TABLESPOONS BOILED CRUMBLY RICE
→ 30 G OF DILL + 20 G OF DILL FOR DECORATION
→ 3 HARD-BOILED EGGS
→ 3 HEADS OF ONIONS
→ 2-3 SQUID
→ 100 G OF MAYONNAISE

For the squid salad with rice and tomato juice, boil the rice in salted water, rinse and cool (see the recipe "Japanese rice").

Cook the squid for 3 minutes, then cool, peel and cut into strips.

Cut the onion into rings, scald and cool. Cut the eggs into half rings, lettuce leaves into pieces, and chop the dill greens.

Mix all the ingredients, add salt, pepper, season with mayonnaise and tomato juice. At the end of the salad of squid with rice and tomato juice sprinkle with chopped herbs.