Recipes
Steamed fish chops with string beans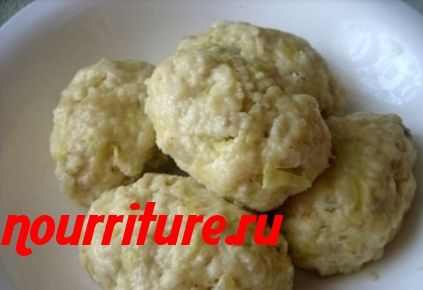 Ingredients
→ GREEN BEANS
→ FISH BROTH
→ 750 G OF FISH (COD, HAKE, PIKE, CARP, CATFISH, BURBOT, WALLEYE) OR 500 G OF FILLET
→ 4 TABLESPOONS MELTED BUTTER + 1 TABLESPOON BUTTER FOR SAUCE
→ 1-2 EGGS
→ 100 G OF CHAMPIGNONS
→ 100 G CRUMB OF WHITE BREAD
→ 1/2 CUP MILK
→ 1 CUP DRY WHITE WINE
→ 1 TABLESPOON WHEAT FLOUR

Prepare minced fish in the same way as for chopped cutlets (see the recipe "Sicheniki (chopped cutlets) from fish" and the article "Cutting fish").

Cut the minced meat, giving it the shape of the balls, place the balls in one row at the bottom of the pan, pre-greasing the bottom with oil. Put the peeled, washed and sliced mushrooms between the balls. Sprinkle the bats and mushrooms with oil, pour in white wine and top up with fish broth cooked from fish bones (see the article "Features of cooking steamed fish", as well as the recipe "Fish broth"), so that the bats are immersed in the broth for 3/4. Cover the pan with a lid and cook over low heat for 15-20 minutes.

Separately boil the string beans and also fill it with melted butter.

At the end of cooking, pour the broth into a saucepan and prepare the sauce in the same way as for steam sturgeon (see the article "Features of cooking steam fish").

When serving on the table, transfer the cue balls to a warmed dish, place the mushrooms on top of the cue balls. Garnish the dish with bean pods and prepared sauce.