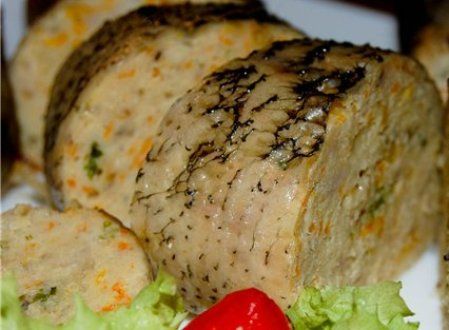 Ingredients
→ GROUND BLACK PEPPER
→ SALT TO TASTE
→ WATER
→ 70 G ONION
→ 50 G OF BREAD ROLL
→ 50 G CARROTS
→ 30 G BEETROOT
→ 100-200 ML OF MILK
→ 1 RAW EGG
→ 1 KG OF FISH (CARP, COD, PIKE)

Clean the fish from the scales, cut off the head, remove the entrails, without cutting the abdomen. Cut the fish prepared in this way into pieces. Use a sharp knife to cut out the pulp near the spine. Pass the fish fillet through a meat grinder with raw onions and a loaf soaked in milk. The resulting minced meat is mixed with egg, salt, pepper. Fill the prepared pieces of fish with minced meat and smooth the edges.

Slice the onion, beetroot, and carrot in layers and place on the bottom of the pan. Carefully place the cooked pieces of fish on the vegetables and cover them with cold water so that they are covered with water. The scales removed from the fish are well washed, put in a bag of gauze and put in a saucepan. Add salt and ground pepper to the water and cook with the lid open over low heat for an hour and a half. The broth should boil all the time, but not too much.

Carefully put the finished fish on a flat dish and pour it over the strained broth. Garnish with slices of boiled carrots.

If the fish is low-fat (cod, pike), you can add butter or vegetable oil to the minced meat. You can also add 200 g of boiled carrots to the minced meat, passed through a meat grinder. Minced meat is best prepared from several varieties of fish, adding to the pike fatty fish (tuna, saury, herring). Put the bones and heads of the fat fish in the same bag with the scales. You should get a very rich broth that freezes easily, like jelly. At the end of cooking, you can add a pinch of saffron, this will give the fish a beautiful color. Serve the fish cold.