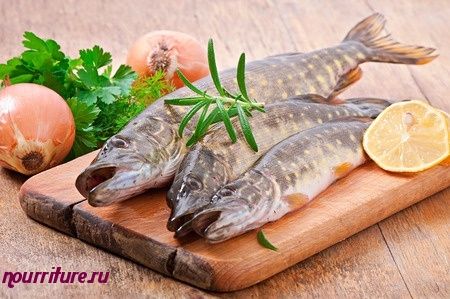 Ingredients
→ SALT
→ WATER
→ 50 G BUTTER
→ 50 G WHEAT FLOUR
→ 300 G ONION
→ 200 G OF MILK
→ 150 G WHITE BREAD (WITHOUT CRUST)
→ 1-2 CLOVES OF GARLIC
→ 100 G CARROTS
→ 100 G BEETROOT
→ 1 EGG
→ 1 KG OF PIKE

Clean the fish from the scales, cut off the head and, without cutting the abdomen, remove the entrails (see the article "Cutting fish"). Then cut the pike crosswise into portions, cut out the flesh and prepare the minced meat. With this minced meat, fill the parts of each piece from which the pulp was cut. 
At the bottom of the dish, put first raw and sliced beets, onions, carrots, on them-pieces of pike filled with minced meat, and then again a layer of vegetables, a layer of fish, etc. Laying so 3-4 rows, pour the fish and vegetables with cold water, add garlic and cook in a closed bowl for 3-4 hours, watering the upper layers of fish broth in which it is cooked. 
Minced meat 
Cut in the fillet of fish flesh and onions to pass through a meat grinder, mix with wheat bread soaked in milk, butter, egg, salt, ground black pepper and again pass through a meat grinder.