Recipes
Sturgeon, stellate sturgeon, white sturgeon, carp or pike baked in sour cream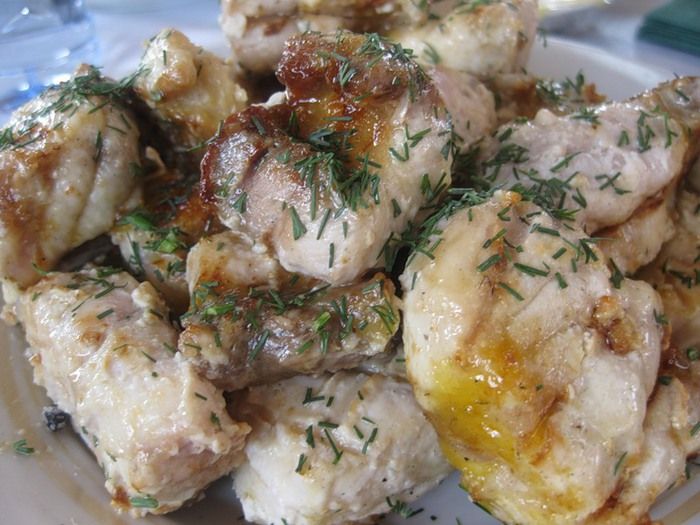 Ingredients
→ GROUND BLACK PEPPER
→ SALT
→ 800 G OF POTATOES
→ 750 G OF FISH OR 500 G OF BONELESS FILLET OF BELUGA, STURGEON, STURGEON, CARP OR PIKE
→ 4 TABLESPOONS MELTED BUTTER FOR FRYING + 1 TEASPOON BUTTER FOR SAUCE + 2-3 TABLESPOONS MELTED BUTTER FOR WATERING
→ 30-40 G FINELY CHOPPED PARSLEY
→ 25 G GRATED CHEESE
→ 200 G FRESH PORCINI MUSHROOMS
→ 2 TABLESPOONS WHEAT FLOUR + 1 TEASPOON FLOUR FOR SAUCE
→ 2 HARD-BOILED EGGS
→ 1 CUP SOUR CREAM (15% FAT CONTENT)

Pieces of sturgeon salt, pepper, roll in flour (see the recipe "White breadcrumbs") and fry in a pan with oil until tender (see the article "Cutting fish"). Also fry peeled and cut into small slices porcini mushrooms (but you can replace fried mushrooms with boiled ones) and cut into circles (1/2 cm thick) potatoes. Put the sturgeon in a frying pan, put circles of eggs and a few slices of mushrooms on each piece. Then cover all the fish with circles of fried potatoes and pour sour cream sauce.

The sauce is prepared as follows: put the sour cream on the fire and when it boils, add 1 teaspoon of flour mixed with 1 teaspoon of melted butter, stir, boil for 1-2 minutes, and at the end add salt.

Fish, drizzled with sauce, cover with grated cheese, pour melted butter and put in a preheated oven to 180-200 degrees. After 5-6 minutes, the fish should be browned. When serving, sprinkle the fish on top with finely chopped parsley. In the same way, you can bake fillets of sevryuga, beluga, walleye, carp, pike and other fish.