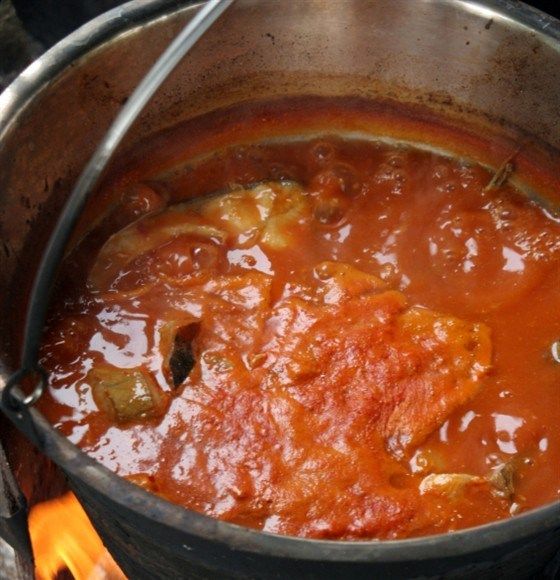 Ingredients
→ SALT
→ SUGAR
→ GROUND BLACK PEPPER
→ 500 G BONELESS FILLET OF FISH (WALLEYE, PIKE, STURGEON, NAVAGA, SMELT)
→ 50 G OF VEGETABLE OIL (FOR FRYING IN A FRYING PAN) + 3-4 TABLESPOONS OF OIL (FOR FRYING IN A SAUCEPAN)
→ 3-4 CLOVE BUDS
→ 30 G PARSLEY OR GREEN ONION
→ 2 PEAS OF BLACK PEPPER
→ 100 G WHEAT FLOUR
→ 1/3 TEASPOON GROUND CINNAMON
→ 1 CUP FISH BROTH OR HOT BOILED WATER
→ 1 BAY LEAF
→ 0.5 CUP 3% OR 5% VINEGAR

In the marinade, you can cook any fish: walleye, pike, sturgeon, navaga, smelt, etc. Large fish should be cut into pieces (see the article "Cutting fish"), and small (navaga, smelt) should be left as a whole. Add salt to the prepared fish, sprinkle with ground black pepper, roll in flour, fry in vegetable oil and cool. 
To prepare the marinade, wash the peeled carrots, parsley root and onion, cut into thin slices or straws, put in a saucepan, add 3-4 tablespoons of vegetable oil and lightly fry for 10-15 minutes. Then add the languid paste, 1 bay leaf, 2 peas of black pepper, 3-4 clove buds, 1/3 teaspoon of ground cinnamon, pour in 0.5 cups of vinegar, 1 cup of fish broth or hot water and cook for 10-15 minutes. Add salt and sugar to taste, pour in the prepared fish and cool. 
Put the marinated fish in a salad bowl or deep dish, sprinkle with parsley or green onions.