World culinary
The kitchen is North of Ukraine: Chernihiv soup, biscuits Baturyn, Kiev cake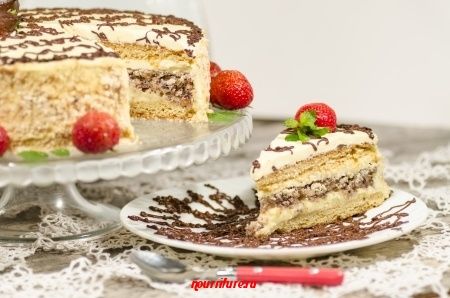 The most popular, favorite and local residents and guests of the country are dishes such as Chernihiv borscht, carp in sour cream, leafy greens with cottage cheese, homemade sausage and pork, potato lezhnya, baturinsky cakes, Zhytomyr liver, deruny with bacon. These original authentic dishes are the basis of the menu of any modern restaurant focused on national traditions, they are known not only on the territory of Ukraine, but also far beyond its borders.
For example, Chernihiv borscht is prepared in Moscow, St. Petersburg, and new York in a Slavic restaurant. Its special feature is the use of large white beans: it gives the dish a unique taste and aroma, makes it more dense and nutritious.
Chernihiv borscht is prepared on a broth of pork ribs, and vegetables are used potatoes, cabbage, beets, carrots, parsley root, zucchini and onions. For a spicy and savory taste in Chernihiv borshch add the applesand the vegetables are sauteed in ghee. Compliance with the cooking technology and the proportions of ingredients guarantees the appearance of a culinary masterpiece with a unique taste and smell. Dressed with sour cream and decorated with a sprig of greenery, Chernihiv borscht causes not only a desire to quickly eat it, but also an endless time to admire the aesthetics of the dish, as well as to inhale its aroma.
Another popular dish in Northern Ukraine is potato lezhni. They are prepared in the form of potato zraz with a filling of stewed sauerkraut. Lezhni baked in the oven, served with sour cream and herbs.
In Chernihiv are experts in the preparation of the pancakes with cottage cheese. For this dish, wheat flour is used, from which the thinnest pancakes are baked, and cottage cheese, which is then stuffed with them. Sometimes raisins and poppy seeds are added to the minced meat, and this makes the leaves get a completely different taste.
Unique baturinsky cakes are good for tea. They are prepared on the basis of yeast-free dough with the addition of nuts: hazelnuts or hazelnuts. Rosy, fragrant, they just melt in your mouth and give pleasure to gourmets.
Kiev cake is one of the most popular desserts in the Northern region of the country. Despite the fact that many confectionery factories have slightly modified its recipe, replacing hazelnuts with peanuts, a real Kiev cake should be prepared only with hazelnuts. Home cooking of a famous dessert takes a lot of time, but the result justifies any costs – time and financial. Melting in the mouth, with a pronounced aroma and taste of hazelnut, delicate and airy Kiev cake is a hallmark of not only the city of Kiev, but also Ukraine as a whole.