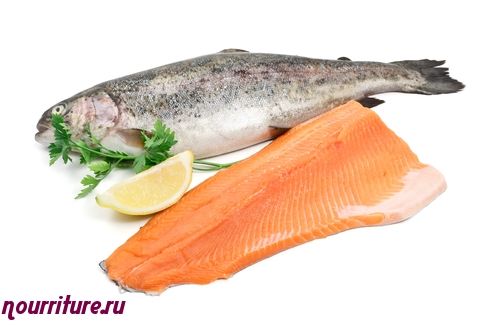 Ingredients
→ MUSTARD SAUCE WITH CAPERS
→ SALT
→ FRESH CUCUMBERS (FOR DECORATION AND GARNISH)
→ FISH BROTH OR WATER
→ ODORLESS VEGETABLE OIL
→ TOMATOES, SWEET PEPPERS (FOR GARNISH)
→ CANNED CRABS
→ CAPERS (FOR DECORATION)
→ PARSLEY (FOR DECORATION))
→ 500 G TROUT
→ 15 G GELATIN (FOR 4 CUPS OF JELLY)
→ 1 CUP MAYONNAISE

Boneless trout fillet, removed from the skin, cut into pieces (50 – 60 g) (see the article "Cutting fish"). Put in a frying pan greased with odorless vegetable oil, add salt, add a little water or fish broth (see the recipe "Fish broth") so that the fillet pieces are half in the liquid, cover with a lid and simmer for 5 to 6 minutes. After that, cool the fish and transfer it to a dish or plates, cover with mayonnaise. 
Garnish with mayonnaise on top with crayfish necks or pieces of crab, green leaves, capers, slices of fresh cucumber. All decorations should be attached. To do this, the fish fillet together with the decorations is poured with a thin layer of semi-frozen jelly obtained from fish broth.
When serving, place a heaped salad of vegetables (tomatoes, cucumbers, red sweet peppers), cut into cubes or straws and seasoned with mayonnaise in the center of a round dish. Around the mound of vegetables, put a finely chopped green salad and put trout mayonnaise on it. In the gaps between the fillet pieces, put the finely chopped jelly. 
Mustard sauce with capers or mayonnaise is served separately. 
In the same way, you can prepare mayonnaise from fillets of cod, chum salmon,pike, walleye, sturgeon, sevryuga. However, sturgeon and sevryuga must first be cooked, cooled and cut into small pieces.