Articles
Walnut (the seed, or kernel): useful properties of walnuts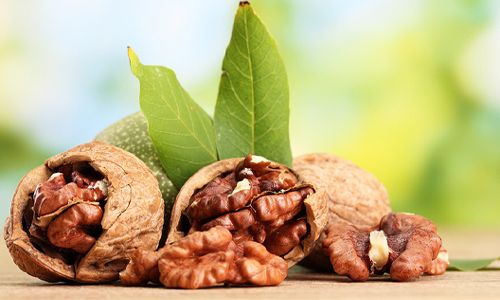 Walnut is a type of tree of the genus "nut", which produces fairly large fruits with a wrinkled shell and a shaped core that looks like a human brain. The walnut kernel is covered with a thin shell of light or dark color, and with a light shell it is the highest grade, and with a dark one – the lowest.  
Walnut (the seed, or kernel): useful properties of walnuts


The first mention of walnuts dates back to the 6th century BC: the historian Pliny writes that the seeds of these nuts were brought to Greece from the gardens of the Persian king Cyrus.  
In Ancient Greece, the nuts perfectly caught and received the name of "God's acorns". From there they spread to Rome (Latin names for nuts: "basilicon" ("Royal"), "Jovis glans" ("acorn of Jupiter"), "juglans" (an abbreviation of the previous name), to India and the countries of the Near and Middle East.  
In Europe, the walnut came with the Romans, and in Russia this "green delicious fruit" arrived about a thousand years ago, along with merchants following the path "from the Varangians to the Greeks".  So, in Russia, this nut was called "walnuts" or "voloshskimi" ("volotskimi") - because it was brought by drag from Greece. 
Today, walnuts are one of the most popular nuts in the world. Its kernels and oil are used in cooking to give a refined taste and aroma to salads, meat and confectionery.  In addition, crushed walnuts are often mixed with honey, garlic, herbs and vegetable oils.