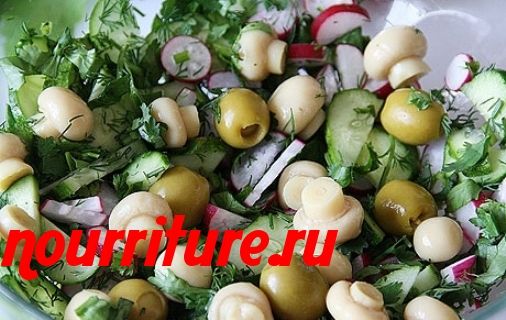 Ingredients
→ SALT
→ 6 HARD-BOILED EGGS
→ 50 G VEGETABLE OIL
→ 50 G LEEKS
→ 5 TOMATOES
→ 250 G SARDINES IN OIL
→ 200 G PICKLED MUSHROOMS
→ 2 HEADS OF LETTUCE
→ 1-2 FRESH CUCUMBERS
→ 10 RADISHES
→ 1 PICKLED CUCUMBER

Marinated mushrooms cut into slices, circles-radish, fresh cucumber and pickled cucumber and 2.5 tomatoes. Chop the leeks.

Mix everything carefully, put it on lettuce leaves, pour oil from sardines, add salt, add marinade from mushrooms.

Top with the remaining tomatoes cut into circles, eggs cut into 4 parts, sardines and radish circles.