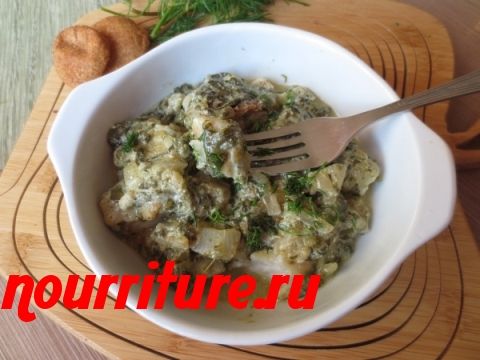 Ingredients
→ GROUND BLACK PEPPER
→ SALT
→ CLOVE OF GARLIC
→ 400-600 G OF FRESH FISH
→ 1-2 BAY LEAVES
→ 100 G OF ONIONS OR GREEN ONIONS
→ 1 CUP FISH BROTH OR WATER
→ 1 TABLESPOON WHEAT FLOUR
→ 200 G SORREL
→ 2 TABLESPOONS VEGETABLE OIL

Clean the fish, cut into pieces (see "Cutting fish"), sprinkle with salt and pepper, roll in flour (see "Flour breading") and fry in oil together with finely chopped onions.

Sorrel sort, remove rough stalks, then rinse thoroughly 2-3 times in cold water. Then cut the sorrel not very finely, put it in a bowl, pour in a glass of fish broth (see "Fish broth") or water, close the lid and boil for 5 minutes.

Pour the broth over the fried fish (together with the sorrel), cover the pan with a lid and cook at a low boil for 20-30 minutes. At the same time with the broth, you can add 2-3 spoons of tomato paste or fresh tomatoes, cut into slices, and for flavor – 1-2 bay leaves, a clove of garlic, crushed and ground with salt, a tablespoon of chopped parsley.

The finished fish is served with boiled potatoes or rice (see "Japanese rice"). You can serve the fish in cold form, but in this case it is necessary to fry it before stewing in vegetable oil.