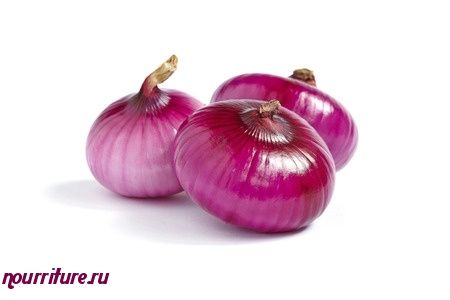 Red onions are considered much more useful than white or yellow onions, and this is not surprising – because their flesh contains a huge amount of useful amino acids-antioxidants and vitamin C. 
The husk of the red onion is colored red-purple, and the juicy scales are usually purple-white. 
The bulb itself in the so – called Crimean onion is flattened, in other varieties it is round or ovoid. 
Depending on the growing conditions, the taste of red onions can vary from sweet to bitter. However, in general, red onions can be classified as a delicacy of onions and used for cooking a variety of dishes: 
stewed vegetable stew; 
vegetable side dishes (including salted or pickled herring); 
shish kebabs, where pickled onions are used; 
fried meat, where onions are fried; 
onion fries and baked; 
salads made from vegetables, meat or fish; 
vinaigrettes; omelette with onions; 
grilled vegetables; 
toppings for pies and pizza.