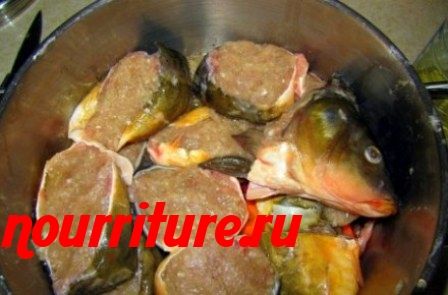 Ingredients
→ GROUND BLACK PEPPER
→ SALT
→ WATER
→ 3 BEETS
→ 3 CARROTS
→ 100 G OF WHITE BREAD
→ 1 SMALL ONION
→ 1 KG OF FRESH FISH (PIKE, WALLEYE, CARP, MIRROR CARP)
→ 1 GARLIC CLOVE

Clean the fish from the scales, cut off the head and, without cutting the abdomen, remove the entrails (see "Cutting fish"). Remove the gills from the head. Wash the fish with cold water and cut into pieces across. Cut the pulp from each piece without damaging the skin.

To prepare the minced meat, cut the flesh together with chopped onions and white bread soaked in water through a meat grinder. In the minced meat, add salt, ground black pepper and mix everything well. Fill the pieces of fish with the prepared minced meat, as well as both halves of the head.

At the bottom of the pan, put the sliced beets and carrots, put the chopped pieces of fish on top of the vegetables, add the chopped garlic, pour water so that the water only covers the fish. Cover the pan with a lid. Cook the fish on low heat for 1.5-2 hours. During cooking, the top layer of fish is occasionally watered with broth from a saucepan.

Put the finished fish together with the vegetables on a platter and pour the broth in which the fish was stewed.

Stuffed fish can also be served cold.