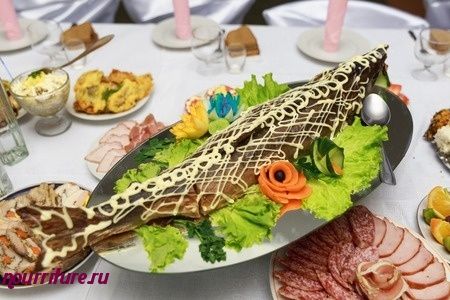 Ingredients
→ TOMATO SAUCE
→ FISH BROTH
→ GROUND BLACK PEPPER
→ 200 G ONION
→ 200 G OF MILK
→ 2 CLOVES OF GARLIC
→ 150 G WHITE BREAD (WITHOUT CRUST)
→ 100 G BUTTER
→ 1 EGG
→ 1 KG OF PIKE

Peel the pike from the scales, rinse in cold water, cut through the skin around the head and, separating it from the meat with your fingers, gently peel it off. At the tail, separate the spine part so that the tail remains with the skin (see the article "Cutting fish"). After removing the skin, gut the fish, wash, separate the meat from the bones, prepare minced meat from it and fill the pike skin with it.
Put the stuffed fish on a greased baking sheet, add a little fish broth (see the recipe "Fish broth"), cover with oiled paper and put it in the oven. 
Cut the finished fish into portions and serve it with tomato sauce (see the recipe "Tomato sauce"). 
Minced meat 
Cut in the fillet of fish flesh and onions to pass through a meat grinder, mix with wheat bread soaked in milk, butter, egg, salt, ground black pepper and again pass through a meat grinder.